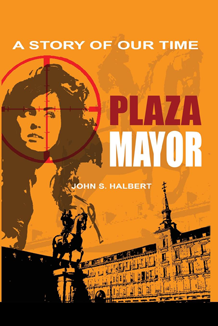 Copyright 2013 John Halbert | All Rights Reserved.

Plaza Mayor

Continuing from the first volume, ARBAT SQUARE. In this wide-ranging novel of action, intrigue, adventure, romance and redemption, young California marketing executive Larry Landay takes a shipment of sophisticated electronics to Africa. There, he encounters a worldwide crime cartel, supplying weapons and training to international terrorists, renegade governments, and criminals engaged in human trafficking.

The American Investigation Agency joins forces with the Russian Security Service and International Police to try to stop the cartel's mastermind, a former Soviet general allied with a mysterious and wealthy Middle-Easterner who, using cutting-edge technology and taking advantage of porous U.S. borders, seeks to install suitcase-sized nuclear devices and other sophisticated weapons in American cities and to destroy important landmarks. This "Conspiracy Thriller" offers surprising perspectives of the "other side" and ranges from Texas, to Moscow, to Havana, to Nigeria, to the drug cartels of Colombia and to Madrid, where the subjects—-most of whom do not know each other but whose lives are nevertheless inexorably intertwined—are brought together at historic "Plaza Mayor" for the world-shaking climax.